Information & Design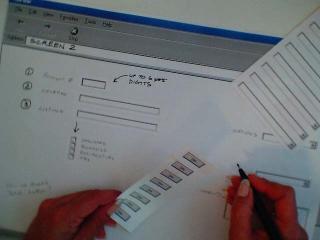 Paper prototyping is a technique that enables technical and non-technical personnel to cooperatively design user interfaces for GUI and Web applications.
Our prototyping kit is a simple low-tech collection of user interface elements that facilitates this process. We no longer sell the kit, but because of ongoing interest have made all the source materials available here free of charge.
The kit contains scaled GUI and Web screens, printed with a light grid. The screens can be printed on A3 or Ledger paper.
The kit also contains labels of proportionally-sized controls such as fields and buttons. These have been designed for printing on Avery-size labels. You can choose between A4 and Letter sizes (the number of labels per page varies). Note that the source material is available in PDF format only.
Click on any of the following links to download. Note that when printing labels you should de-select 'Fit to Page'.